art
therapi

As a non-verbal therapy technique, art therapy helps people who are not adept with verbal expressions or don't benefit from traditional talk therapy. Recently, art therapy has gained momentum in the media as well as in lives post-pandemic. Unfortunately, existing video conferencing apps make it hard for therapists to observe and interact with their art therapy clients. The online experience leaves both the art therapist and the client disappointed.

art therapi is a brand-new solution for online art therapy. It consists of a desktop app(for therapists) and a tablet app(for clients) to create art, have a productive dialogue, and take notes. It also provides a better way for art therapists to understand clients' feelings and thoughts while helping clients to express themselves through art.


---
Time

Jan - May 2022
---
Type

Graduate thesis project
---
Members

Cyan Kwan
YuehChun Chao [Advisor]
---
Responsibility

Research
Interaction Design
UI Design
Video Making

---
01 Video Intro
An art therapy app providing reliable and meaningful online art therapy experiences for therapists and clients.
---
02 Process
Background

In recent years, online psychotherapy has become more and more popular, and its convenience has made it the first way for many people to try therapy. However, online therapy has many limitations, which prevent it from exerting the best therapeutic experience. What can I do about this? This inspires me to design an online therapy tool for therapists and clients.
Secondary Research


Through social networking and BBS, I learned about the existing problems of online psychotherapy.

I found that the current online environment is unable to perform some interactive therapy techniques, like art therapy and sandplay therapy. Compared with talk therapy, interactive therapy techniques has their specificity. Also, because there are no proper tools for this area, the online trend is making this kind of therapy to be difficult. I believe this is an opportunity for me to explore a solution for therapists who are working in this area. So I targeted interactive therapy techniques as my focus.

Mapping


After comparing the online therapy platforms on the market, I think that my product as a platform for interactive therapy techniques can cover more high-risk cases. The interactivity will also be a major differentiator for other products.



MVP Testing
I made two prototypes of interactive therapy techniques (Sandplay therapy and art therapy), and invited three users to test. Users can choose one they are interested in. These prototypes are simple and made of existing apps in order to test the basic online therapy process.
Feedback & Key Insights
Users have high expectations but the therapy is hard to reach the expectation for the first time.
Users expect to archive the tray/artwork in order to see the change/progress.
Therapists are busy during therapy, some productivity features could be helpful.
How can I let users use it comfortably meanwhile therapists can see their faces?
Interviews
In order to deeply understand art therapy and the genral therapy area, I invited two therapist - YuehChun Chao, an art therapist and Ruidi Zhu, a talk therapist to interview. Here are the insights and notes from interviews.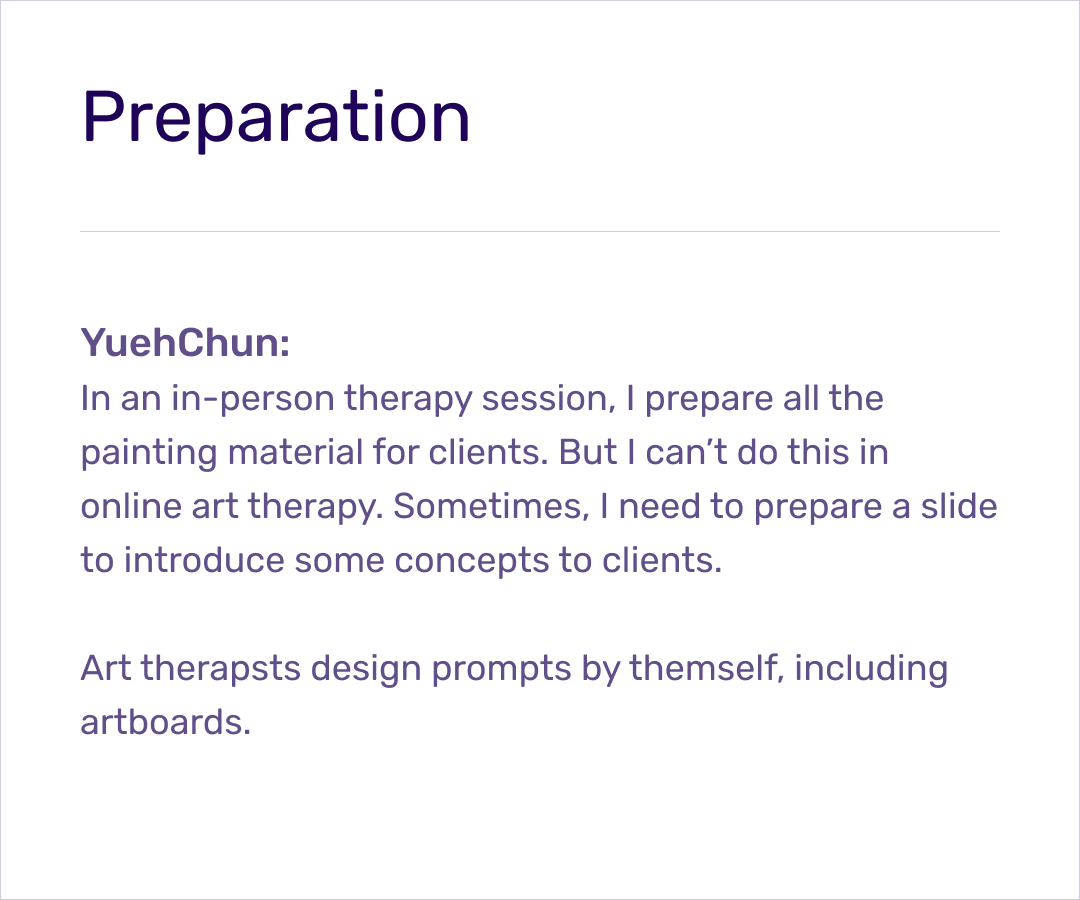 Pain Points

Combined the results from MVP test and interviews, I summed up the pain points as three aspects:

1. Material Preparation
2. Environment
2. Observation

Now, the problems are clear more:
In a traditional therapy session, art therapists can set up a safe and interactive environment for the clients to express their feelings, thoughts, and behaviors. therapists can observe the clients' body language and art-making process to provide better support.

However, therapists might find it difficult to set up the environment, pick up the clues, and support her through a screen. It makes their works challenging. Clients also cannot get the best therapeutic experience.





---
03 Features
Let's start an
art therapi journey!
Introducing - Nancy, an art therapist, and Devon, Nancy's client. They are an example of the art therapi journey.

Now, they are going to use art therapi to perform an art therapy session. It is a desktop app for therapists, and a tablet app for clients.
Part 01.
Check-in
The first step of an art therapy session is check-in. To understand the client's needs and decide on an art-making prompt.

Virtual
Space


They will be put in a virtual space in the therapy session. From Devon's view, she can see that the virtual space makes the talking environment warm-hearted and relaxed.


Check-in


From Nancy's view, she will ask Devon how it's going and then choose an art-making prompt for Devon.


Note
Eye Contact
Also, she can take some notes on the windows. The input bar is close to the camera, so she can also keep eye contact with Devon while taking notes.

Part. 02
Art-Making
Now, Nancy and Devon have already been clear about what they need to do. They will go into the art-making part.

Choosing
Artboard


Nancy chooses an artboard and starts.


Painting
Panel


And then, Devon begins to create her artwork using her stylus or finger on her tablet.

She can choose from 72 colors with 10 transparency scales. And there are some basic types of paintbrushes. These amounts of features allow her to choose but not be overwhelmed by too many choices.


Stickers
& Photos


Not only painting, but Devon can also use stickers. In this way, Devon would not feel limited to express herself. Which helps the therapist provide a safe and contained environment for clients.


Timer


Due to some people that may be having anxiety, the timer for clients is hidden by default unless they click on it.


Observation & Music


During this time, Nancy chooses a relaxing background music playlist while observing the painting process.


Question Prep
& Note


If she had a question about the painting, she could click on the artboard and add a question prep.

Using this feature, Nancy can better prepare for the upcoming discussion part.

---
Part. 03
Discussion
Now, Devon is completed with her artwork.

Discussion


Nancy will ask the prepared questions with Devon and discuss them In the discussion part.


Tags


Adding tags to the parts can help Nancy to note the details better.

---
Part. 04
After Therapy

Note Review


After the therapy, Nancy can review the notes for Devon she had made before. The view is organized, so Nancy can quickly build a clear image of Devon and recall what they talked about last time.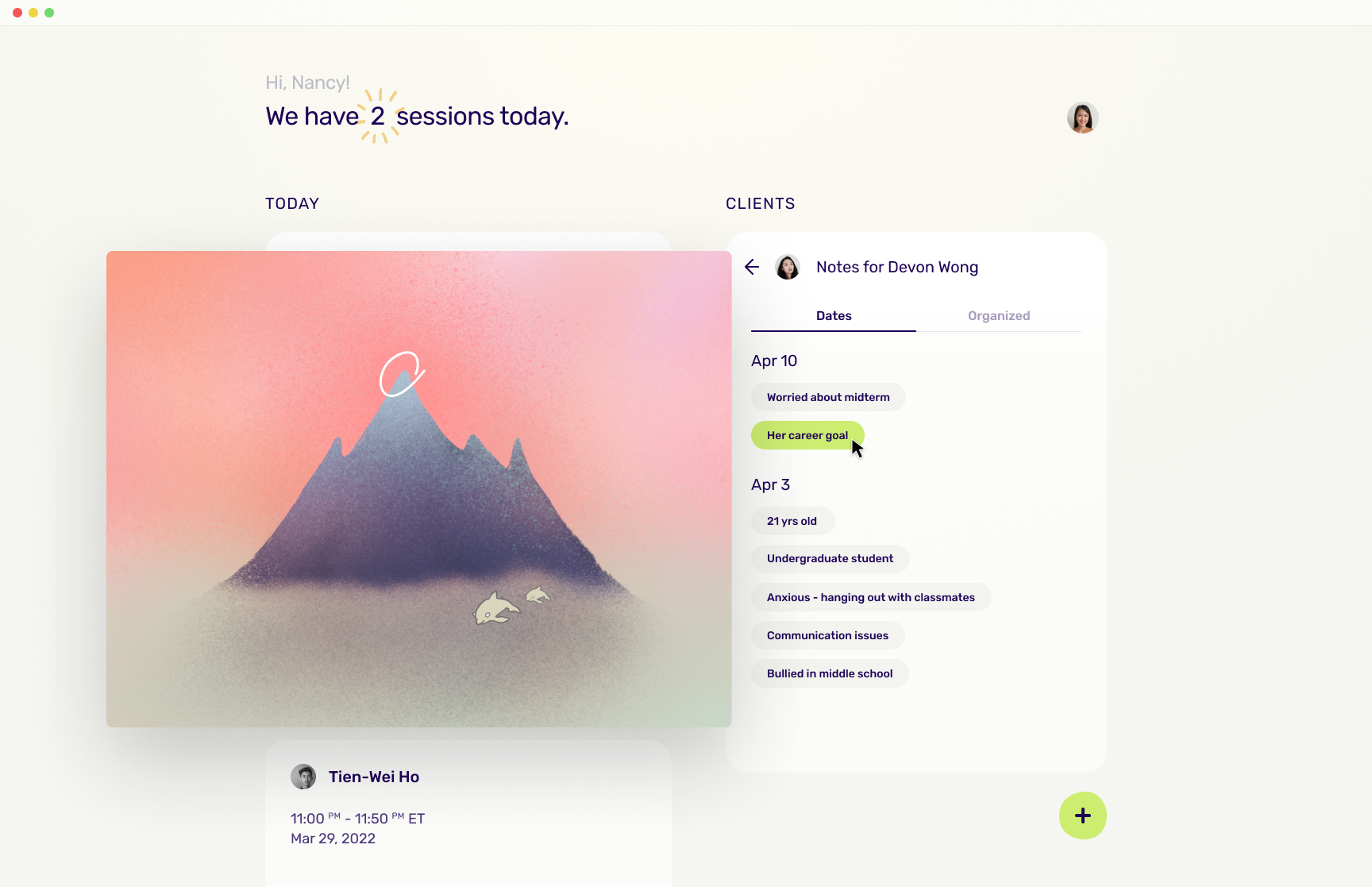 Gallery


For Devon, she can review all the artworks she created. To recall her meaningful mental experiences.